Libye et
Développement économique et social et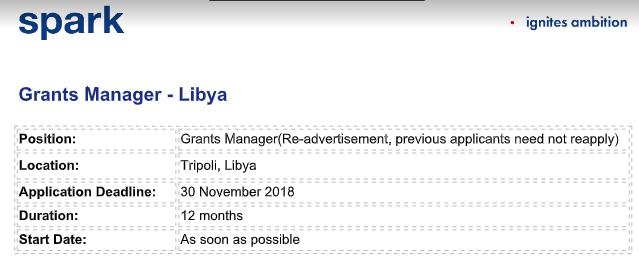 Under the supervision and guidance of the Regional Programme Manager, the Grants Manager will have overall responsibility for managing local partner programmes and will provide day-to-day supervision on the projects being implemented under the LEAD programme. S/he will work with the Regional Programme Manager and local Country Managers to evaluate grant submissions and ensure all grants are executed according to SPARK and Donor regulations.
Main tasks and responsibilities:
Under the responsibility of the Regional Programme Manager, the Grant Manager will be responsible for the following:
Analyse and evaluate grant submissions for technical and budget strength and compliance with SPARK & Donor regulation, providing recommendations and feedback to the RPM
Oversee and manage the issuance of awards, maintaining accurate and correct documentation of LEAD programme grant portfolio
Act as the main focal point for local partners, providing technical support and guidance when required.
Organising capacity building measures for the partner to remedy their assessed weaknesses;
Monitor local partner implementation, including attending events and trainings, reviewing narrative reports, etc.
Ensure close coordination of grant awards compliance by coordinating with finance
Provide training and capacity building to staff and local partners on specific areas related to grant management
Support the Country Managers and RPM in identifying opportunities for programme development
SPARK develops higher education and entrepreneurship, so that young ambitious people are empowered to lead their conflict affected society into prosperity. SPARK is a dynamic and growing not-for-profit development organization with 80 staff members which supports young entrepreneurs to start or grow their own businesses. SPARK provides displaced youth with access to higher education in fragile areas. Moreover, SPARK assists post-secondary education institutions to reform their curricula to better meet the needs of the labour markets. Based in Amsterdam, SPARK has offices in among others Abidjan, Amman, Beirut, Belgrade, Bujumbura, Gaziantep, Erbil, Hargeisa, Juba, Kigali, Mitrovica, Monrovia, Ramallah, and Tunis.
SPARK and its partners have implemented the LEAD programme since January 2016. The overarching objective is to contribute to the reduction of irregular economic migration and radicalization by improving the socio-economic position of young people in Libya, Somalia/Land and Tunisia. As such the programme strives to create sustainable youth employment in growth sectors with special attention to young women, by assisting existing – (70%) and new entrepreneurs (30%) with coaching & training and facilitating SMEs access to finance and markets. An integral part for achieving these goals is the promotion of entrepreneurship among young people by integrating entrepreneurship education in secondary and higher education; and additionally by providing a platform for successful young entrepreneurs.
Programme activities are aimed at young people in Tunisia, Libya and Somalia/Land between 15 and 35 years old, with an emphasis on people between 15 and 24 years old (60%) and women (40%).