Tunis
«Trained in GermanY»: Le tremplin pour votre carrière !
1er salon de l'emploi Tuniso-Allemand
Trained in GermanY Tunisia 2015 in Tunis
The goal of the career fair is to support German and local companies in finding qualified professionals "trained in GermanY" and to offer the visitors a career platform. Around 30 exhibitors (companies and institutions) as well as numerous visitors are expected to be present at the fair. Visitors and job seekers can meet with HR managers and also attend also exciting panels and workshops on German-Tunisian partnership topics.
Time:
9:00 am – 5:00 pm (CET)
Place:
Palais des Congrès, Tunis
Tunisia as an interesting business location
Tunisia is an attractive business location for German and international companies because of its high industrialization, competitiveness and geographic proximity to Europe. The political stability since 2014 and the recently-opened negotiations between Tunisia and the EU on a free trade agreement (DCFTA) should also contribute to the economic development.
Strong presence of German companies in Tunisia
German companies have been investing for years in areas such as the automotive supply industry, electronics and electrical engineering or textile sector and have outsourced parts of their production to Tunisia. According to AHK Tunisia, they already employ about 51,000 employees in the country and many of the companies are expecting more jobs to be created. Especially the demand for qualified professionals should increase in the future.
Initiative
The career fair "Trained in GermanY Tunisia 2015" is a cooperation between AHK Tunisia and Alumniportal Deutschland aiming at bringing together Germany-Alumni and further qualified professionals with German and Tunisian companies and organizations. It is organized within the "Trained in GermanY" initiative, the world wide leading career fair for Germany-Alumni, of Alumniportal Deutschland. Germany-Alumni are people from all over the world who have studied, worked, conducted researched or received training in Germany or at a German institution abroad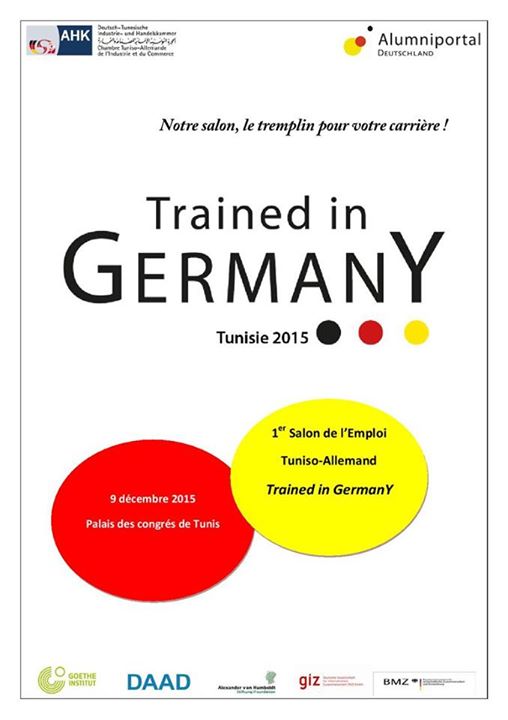 Organizers:
AHK Tunisia : 

is part of the global network of the German Chambers of Commerce (AHK) in 130 locations in 90 countries around the world. AHK Tunisia was founded in 1979 following an initiative of the German and the Tunisian Government and is based on equal representation. In more than 35 years, it has grown strong roots in the country and is recognized as a reliable and flexible partner with the authorities, companies, organizations and its more than 700 members, that promotes the relations between German and Tunisian companies. For more information please visit this

link
Alumniportal Deutschland

is a social network with more than 119,000 members designed to promote networking and sharing of information among Germany-Alumni, companies, universities and organisations. It helps also qualified jobseekers to build up their career path in German companies and organizations. It is a cooperation project headed up by the Deutsche Gesellschaft für Internationale Zusammenarbeit (GIZ) GmbH and involving the Alexander von Humboldt-Foundation, the German Academic Exchange Service (DAAD) and the Goethe-Institut and financed by the German Government For more information please visit this

link