Tunisie
Women Land Rights for Inclusive Development and Growth in Africa
(WIDGRA) project
Background to the Assignment
Oxfam intends to commission a baseline study of the Women Land Rights for Inclusive Development and Growth in Africa (WIDGRA) project coordinated by Oxfam International – Pan Africa Programme. This is a three-year project funded by the European Union and implemented in partnership with PROPAC and PLAAS. The overall objective of the project is to ensure women's access to and control over their land resources across Africa – supporting and enabling rural women's voices. The project focus countries are Cameroon, Ethiopia, Kenya, Malawi, Mozambique, South Africa, Togo, and Tunisia with interventions at the continental level informed by the country work and experiences, which include creating linkages and providing platforms to the AU and its institutions, regional and other platforms.
The objectives of the project are:
To hold the governments in the target countries and the Regional Economic Communities accountable on the implementation of relevant AU women's land rights (WLR) instruments; and other relevant WLR policies and laws – monitoring the actions they take.
To empower rural women's organizations to analyze, document and disseminate evidence on pronounced cases of missing WLR and action against the discriminatory land tenure systems and threats originating from LSLBIs.
Pan-African civil society is recognized for their leadership, knowledge and advocacy capacity on WLR by governments, RECs, AU and WLR experts.
The purposes of the baseline are :
Programme learning: the baseline will inform programme and advocacy strategies and identify need to refine/ review already planned implementation methods. Its findings will inform foreseen risks and assumptions, and further induce risk assessment model.
Effective monitoring and impact measurement: the baseline will inform current/ actual findings on the implementation of AU WLR instruments by targeted countries and form benchmarks of the project indicators. This will regularly inform effectiveness and efficiency of the project interventions and advice using the value-for-money model.
Identify policy influencing gaps and inform on capacity needs.
Accountability: The baseline will ensure Oxfam's practice of accountability to the different stakeholders in this project including but not limited to Oxfam in-country teams, CSOs, EU, national and regional administrative and policy making teams and women etc. This will champion further our belief in coalition building, and networking.
Sustainability: The baseline will seek to populate sustainability measures in the target countries, and in respect to CSOs and stakeholder matrix develop key indicators of sustainability
Purpose of assignment
Reporting to the Lead Research consultant, the in-country consultant will support the Tunisia country team in:
Contextualization of baseline tools which include proof reading of the translation into local languages,
Synthesis and analysis – conducting preliminary actors and power mapping and thematic analysis to develop key messages and document emerging issues to be used in drafting country reports
Mobilizing and locating key respondents (may include making phone calls/emails to arrange interviews), Oxfam in Tunisia will provide induction letter to introduce the consultant to relevant stakeholders
Data collection which include moderating 3 Focus Group Discussion (ex. with rural women, CSOs, institutional), laws, administrative notes and "circulaires", and conducting Key Informant Interviews,
Briefing of country stakeholders on the process of the baseline and reflections on preliminary key findings/messages and emerging issues at the end of the data collection process.
Expected deliverables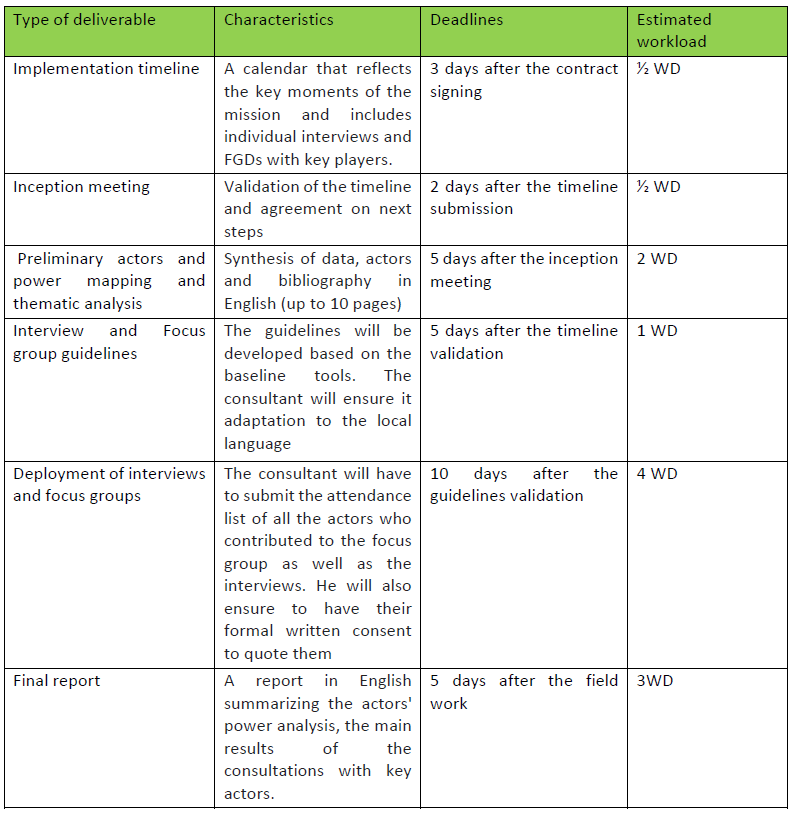 Terms and conditions
The assignment is planned to take place in May-June 2018 in Tunisia. The in-country technical assistant should be available for all the days during the data collection in Tunisia. The in-country consultant will be contracted for 11 days during the baseline exercise, spread on 2 months.