Job title: Driver & Supply Chain Assistant
Employment category: National I
Reporting to: Supply Chain Officer
Subordinates: N/A
Unit/department: Supply Chain Department
Location: Medenine
Authorization level: N/A
Overall purpose of the role: Under the direct supervision of DRC Support Service Officer, the Driver & Supply Chain Assistant is responsible for the safety of passengers and the maintenance of assigned vehicles through safe driving practices and proactive preventative vehicle maintenance; as well as the timely and
effective support to certain administrative and logistical procedures as required for the implementation of DRC programmes in the Medenine area, Tunisia .
The job is based in Medenine city with travel around Medenine district
Responsibilities: (in bullet points)
 Drive DRC program staff in a safe and courteous manner.
 Always follow DRC vehicle policy and operating procedures (use of logbook, no drinking while driving, seatbelts, etc.).
 Conform to daily morning assessments of road conditions and security situation when in the field or travelling to the field.
Inspect the condition of the vehicle on a daily basis. Ensure vehicle security and safety when parking
 Ensure timely servicing and maintenance of DRC vehicles; timely and responsibly resolve any mechanical problems.
Follow up with the renewals due (i.e. insurance, road license, etc.).
Accountable for all vehicle equipment and spares. Negligent loss of equipment will result in immediate dismissal and/or equivalent deduction from salary.
 Ensure vehicle is never overloaded and only carries DRC passengers.
Assist the Supply Chain Department and project staff in loading and unloading cargo as necessary.
 Respect DRC driving role and regulations, and the local authorities traffic laws
Recording mileage and fuel payments
Collect quotations from suppliers as requested
Assist with the purchasing of different supplies as requested
Arrange for the collection and delivery of equipment and goods
 Collecting goods from a warehouse or other place of work
Loading the vehicle to match the order of drop-off points on the delivery route
Unloading goods at the right addresses & Collecting signatures on delivery
Ensure goods are stored correctly to minimize possibility of damage and deterioration
Oversee all tasks related to asset management including maintaining the asset register, asset cards and personal issue forms. Perform a quarterly physical asset check.
Assist with warehouse management tasks when required including ensuring warehouse documentation is maintained in accordance with DRC policies, overseeing deliveries to and dispatches from DRC warehouses and checking stocks levels.
Oversee and maintain appropriate IT, internet and communication resources for the office. Act as point of contact for IT issues
Ensure the organizations Guest House/guest quarters have necessary supplies, e.g. drinking water, gas etc.
Perform general clerical duties, including photocopying, filing and mailing
Undertake any reasonable duties (including administrative tasks), commensurate with job title, as may determine by Supply Chain Officer or Area Manager
Experience and technical competencies: (include years of experience)
At least 2 years of practical experience in similar role with International NGOs, donors or UN agencies
Proven experience in supporting logistic and administrative tasks
Previous trainings in safety & security will be an asset
Good communication skills and team spirit
Education: (include certificates, licenses etc.)
Valid driving license (Tunisia)
Languages: (indicate fluency level)
Proficient in spoken and written English or French and Arabic

Key stakeholders: (internal and external)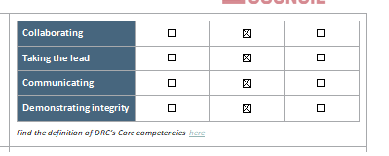 Last updated: (date and name) 30/05/2019
¨Basic: I master the essentials, but may at times need help from others
¨Advanced: I can work independently at full professional level.
¨Expert: I am the go-to person when others need help.