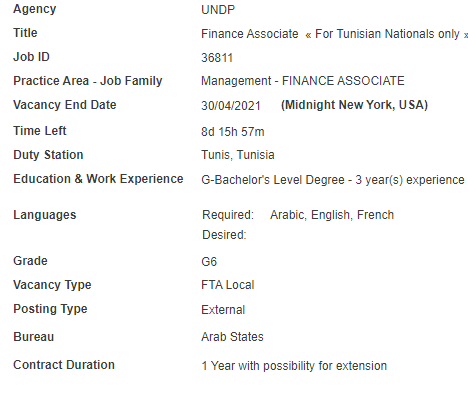 Background
UNDP is committed to achieving workforce diversity in terms of gender, nationality and culture. Individuals from minority groups, indigenous groups and persons with disabilities are equally encouraged to apply. All applications will be treated with the strictest confidence.
UNDP does not tolerate sexual exploitation and abuse, any kind of harassment, including sexual harassment, and discrimination. All selected candidates will, therefore, undergo rigorous reference and background checks.
Under the guidance and supervision of the head of Unit, the Finance Associate ensures effective execution of financial services and processes in CO and transparent utilization of financial resources. The Finance Associate promotes a client-oriented approach consistent with UNDP rules and regulations.
The Finance Associate works in close collaboration with the operations, programme and projects' staff in the CO and with UNDP HQs staff for resolving finance-related issues and information exchange.
Duties and Responsibilities
1.Ensures implementation of operational and financial management strategies, adapts processes and procedures focusing on achievement of the following results:
Full compliance with UN/UNDP rules and regulations of financial processes, financial records and reports and audit follow up; implementation of the effective internal control framework.
CO finance business processes mapping and elaboration of the content of internal Standard Operating Procedures in Finance in consultation with the direct supervisor and office management.
Provision of inputs for implementation of cost-saving and reduction strategies in consultation with the office management.
Preparation of cost sharing and trust fund agreements, follow up on contributions within the CO resource mobilization efforts.
2.Ensures administration of budgets and functioning of the optimal cost-recovery system focusing on achievement of the following results:
Preparation and modifications of budgets for UNDP management projects, follow-up with HQs on ASL for management projects.
Presentation of researched information for planning and status of financial resources of the CO.
Sending project budget to KK if authorized by the Senior Management (can be done only on the basis of signed prodocs and project budgets).
Timely preparation of cost-recovery bills in Atlas for the services provided by UNDP, implementation of the income tracking system and follow up on cost recovery.
3.Provides accounting and administrative support to the Finance Unit and performs Global payroll functions focusing on achievement of the following results:
Proper control of the supporting documents for payments and financial reports for NEX projects; preparation of all types of vouchers; Pay Cycle and payments execution.
Proper receipting of goods and services and establishment of accruals.
Approval of vendors in Atlas (if a senior member of the Finance team).
Global payrolls processing in Atlas.
Maintenance of the internal expenditures control system which ensures that vouchers processed are matched and completed, transactions are correctly recorded and posted in Atlas; payrolls are duly prepared and processed; travel claims, MPOs and other entitlements are duly processed
Timely accounts closure
Timely corrective actions on unposted vouchers, including the vouchers with budget check errors, match exceptions, unapproved vouchers. Timely response to HQ requests to resolve financial data issues.
Timely corrective actions on erroneous data in Atlas. Preparation of financial reports as required.
Maintenance of the Accounts Receivables for UNDP projects and follow-up with partners on contributions, deposits creation in Atlas and their application to AR pending items.
Timely VAT reimbursements, payment of GLOC by the Government.
4.Ensures proper CO cash management functioning focusing on achievement of the following results:
Alternate to Finance Associate for timely review of cash position for local accounts to ensure sufficient funds on hand for disbursements. Timely identification and recording of receipts for income application.
Alternate to Finance Associate for daily review of zero-balance account bank statements in Atlas to monitor imprest level; identification and recording of contributions.
Preparation of monthly UN exchange rate report to Treasury.
Timely and accurate preparation of bank reconciliations.
Alternate to Finance Associate for timely preparation of monthly cashflow forecast for use by Operations Manager/ Finance Analyst. Liaison with UN Agencies to obtain estimate of their cash requirement.
Initiation of bank transfers and deals in Atlas.
5.Ensures facilitation of knowledge building and knowledge sharing in the CO focusing on achievement of the following results:
Organization of trainings for the operations/ projects staff on Finance.
Synthesis of lessons learnt and best practices in financial management.
Sound contributions to knowledge networks and communities of practice.
Impact of Results
The key results have an impact on the overall execution of the CO financial services and success in implementation of operational strategies.  Accurate analysis and presentation of financial information ensures proper financial processes in the CO.
Disclaimer
Important applicant information
All posts in the GS categories are subject to local recruitment.
Applicant information about UNDP rosters
Note:
UNDP reserves the right to select one or more candidates from this vacancy announcement.  We may also retain applications and consider candidates applying to this post for other similar positions with UNDP at the same grade level and with similar job description, experience and educational requirements.
Workforce diversity
UNDP is committed to achieving diversity within its workforce, and encourages all qualified applicants, irrespective of gender, nationality, disabilities, sexual orientation, culture, religious and ethnic backgrounds to apply. All applications will be treated in the strictest confidence.
Scam warning
The United Nations does not charge any application, processing, training, interviewing, testing or other fee in connection with the application or recruitment process. Should you receive a solicitation for the payment of a fee, please disregard it. Furthermore, please note that emblems, logos, names and addresses are easily copied and reproduced. Therefore, you are advised to apply particular care when submitting personal information on the web.
UNDP has a zero tolerance policy for sexual exploitation and abuse, sexual harrassement, discrimination and abuse of power in the workplace.