Tunisie
Job title: Cash Assistant
Employment category:National
Reporting to:Emergency Officer
Subordinates:N/A
Unit/department:Programme / Emergency
Location:Medenine city with travel around Medenine district
Authorization level:N/A
Overall purpose of the role: Assist in the implementation of emergency response activities comprised mainly of cash distributions
Responsibilities: (in bullet points)
General
Assist in the implementation of emergency response activities comprised mainly of cash distributions.
Planning
Assist in the identification of beneficiaries, design and implementation of vulnerability criteria
Assist on discussions with target populations and implementing partners
Assist in monitoring the process of registration by implementing partners
Support mentoring implementing partners on key concepts of vulnerability and targeting
Emergency response
Assist in monitoring the distribution of cash to landlords through implementing partners
Ensure protection mainstreaming throughout distributions, including collecting complaints and implementing referrals to protection teams
Support implementing partners on follow up of complaints and improving future distributions
Reporting
Support implementing partners in the set up and maintenance of beneficiary databases
Ensure confidentiality of beneficiary data and adherence to information sharing protocols
Support M&E teams on the set-up on complaints and feedback mechanisms
Support the Emergency Officer in preparing project briefs, reports and presentations as required
Partnership
Oversight of implementation activities through partnerships to ensure compliance
Experience and technical competencies: (include years of experience)
Minimum of three years relevant work experience
Experience in administrative tasks
Prior experience with international development organizations and displaced population highly desirable
Education: (include certificates, licenses etc.)
Diploma in a relevant field
Languages: (indicate fluency level)
 Fluency in French and Arabic. English is desirable
Key stakeholders: (internal and external)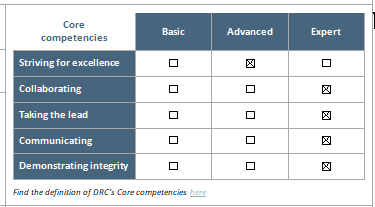 Last updated:30/05/2018
¨Basic: I master the essentials, but may at times need help from others
¨Advanced: I can work independently at full professional level.
¨Expert: I am the go-to person when others need help.