Tunisie
Droits de l'Homme
Job title:Finance and Admin. Assistant(National)
Employment category: National
Reporting to: Area Manager
Subordinates: N/A
Unit/department: Finance, logistic and administration
Location: Medenine, Tunisia
Authorization level: N/A
Overall purpose of the role: Under the direct supervision of the Area Manager, the Finance and Admin Assistant performs the duties of Cashier and supports the day-to-day administration of DRC office in Zarzis (Tunisia), in adherence with DRC and donor guidelines and standards .
Responsibilities:
 Prepare and review payment vouchers and invoices for accuracy and reconcile discrepancies
Make timely payments accordingly with procedures
Manage petty cash and clear small cash advances, upon request, ensuring safe custody of cash
 Ensure daily cash counting and reconciliations
 Review payment requests for accuracy, completeness, compliance, level of authorisation and clarity of invoices
Complete cashbook and monitor cash flow management
Organize, file and scan all payment vouchers with related supporting documents when corrected and approved Cash Book and BFU has been returned
from North Africa Regional Office, Tunis
Support the day-to-day activities of the office
Act as focal point and arrange maintenance for office and guesthouses
 Provides and/or oversees provision of staff support to the office, maintaining calendars and travel arrangements, screening, analysing, and, handling
day-to-day problems and situations
 Prepare drafts of letters and official communications, meeting minutes and summaries of actions to take, tracking progress on issues planned
Responsible for updating monthly the staff contact list
Responsible for staff ID card management and traceability of DRC/ Donor Equipment use
To assist with any other duties in the Department, as directed by the Area Manager
Translation of office documents when requested
Experience and technical competencies:
Minimum 2 years' experience working in a similar position
 Experience of managing and handling cash
 Experience working in Medenine District
 Desirable: experience in similar role with International NGOs, donors or UN agencies
Education:
At least, a 3 year post-secondary school diploma in administration, management, accounting or finance; but preferred a University degree in Accounting, Finance, Business or Public Administration, Management or related fields
Languages: (indicate fluency level)
Arabic (Proficient)
English / and French(Proficient)
Key stakeholders: (internal and external)
Last updated:30/05/2018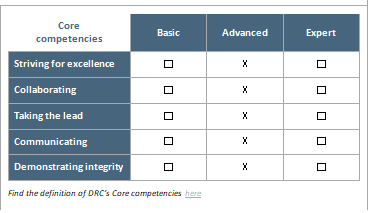 ¨Basic: I master the essentials, but may at times need help from others
¨Advanced: I can work independently at full professional level.
¨Expert: I am the go-to person when others need help.