CONSULTANTS SOLICITATION
Recruitment of a consultancy firm for the identification of actors operating in the aromatic and medicinal plants sector. in the center west regions
Period of Performance:  20th October – December 15TH 2021
Expected Level of Effort:  35 days
Place of Performance: Tunis, Tunisia, with field trips to Kairouan, Kasserine & Sidi Bouzid governorates. 
Program Background
ACEA Tunisia (Action Collaborative pour les Exportations Artisanales, or "Collaborative Action for the Export of Handicraft Products") is a 4-year project funded by the U.S. Department of State and implemented by FHI 360. Its goal is to help artisans, especially those who are socially or geographically marginalized, to commercialize their products, and hence promote greater social and economic equity. Where possible, the project places a special emphasis on assisting artisans to export.
This project is helping to empower artisans and local communities by guiding and advising them using a cluster approach. Members of the Cluster (beneficiaries) meet in workshops and work in groups to learn and share various skills, in conjunction with relevant support entities and technical experts. To date, ACEA has launched cluster development activities in three sectors in Tunisia: essential oils and related natural products (Northwest Tunisia); olive wood kitchenware and tableware (in Sfax and Sidi Bou Zid) and Traditonnal carpeting (in Toujene, Gabes).
ACEA is seeking a consulting firm to assist with the prospection and the identification of potential beneficiaries and for the identification and mapping of existing aromatic and medicinal plants in the regions of (Kairouan/Kasserine/Sidi Bouzid). 
Objective of Consultancy 
The mission's objective is to expand on the work carried out during the first phase and to support the project in establishing a comprehensive database of actors and operators (GDA, SMSA, artisans, etc.) operating in the aromatic and medicinal plant sector, as well as a referential of existing aromatic and medicinal plants in the areas concerned.
The Consultant would work closely with National Office of Handicrafts (ONAT), especially the regional representatives and the Observatory in Denden which is charged with collection and analysis of data. 
Main results expected
The project has a map of actors (Artisans, GDA, SMSA…) operating in aromatic and medicinal plants sector with a focus on women run structures.

The project has a referential of aromatic and medicinal plants present in the areas concerned by this study.
Detailed Tasks and Deliverables
Under the supervision of the Technical Monitor, the firm will carry out the following tasks:
Framework and timeline

. Consultants shall Develop and present to the project a framework note on the implementation process as well as a timeline for the implementation of this mission.

Mapping of potential candidates.

 
Mapping of the aromatic and medicinal flora present in the targeted regions. Carry out interviews with forestry officials in the regions concerned by the study and draw up a mapping of aromatic and medicinal plants, specifying for each species (geographical distribution, size of the deposit, period of exploitation, yield per hectare in fresh matter/dry matter, etc.)

Contact involved local authorities and ensure data collection to identify the project bearers (GDAs; SMSAs; Artisans…) and operators in aromatic and medicinal plants sector with a focus on women run structures.

Contact the project leaders and conduct on site interviews to develop identification forms (name of the structure; date of creation; geolocation; total number of members; number of women; Number of specialized women in essential oil extraction; Number of professional cards delivered by ONAT; plants currently exploited; organic certification; production capacity; activity history; marketing solutions…).
Selection criteria Matrix

.

Consult with local authorities. Define selection criteria and develop a matrix for selecting of potential project beneficiaries.

 
the work will proceed according to the following plan: 
Initial meeting to launch the mission in the presence of the consultants appointed by the contracted consultancy firm, the project team, and representatives of the Tunisian National Handicrafts Office. During this meeting, the draft work methodology, the operational plan, and the timeline should be presented.

Execution of the approved work plan.

Submission of the draft final report, ACEA will provide comments and feedback.

Submission of the final report.

Restitution of results workshop.

closure meeting.
DELIVERABLES 
The firm shall be responsible for preparing and submitting the deliverables to the Technical Monitor according to the following schedule. ACEA will work with the designated firm to finalize format and structure for key deliverables during the consultancy, and the Technical Monitor and other relevant staff will review the firm's proposed drafts and provide feedback accordingly.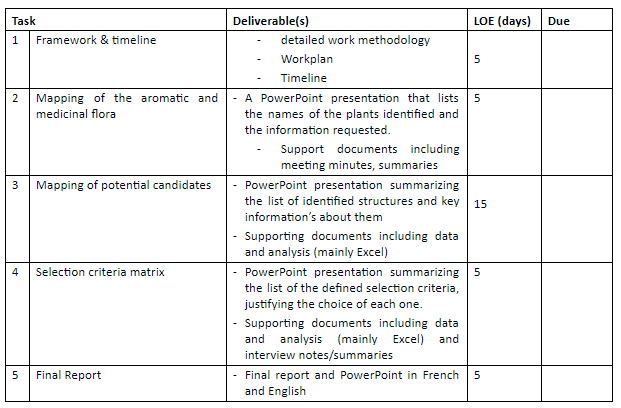 Required Skills and Qualifications
This consultancy is open for national firms. Applicants should demonstrate ability to engage the following profiles:
SENIOR CONSULTANT
Postgraduate degree in economics, business, statistics, public policy or related field.

A minimum of seven years demonstrated experience working with economic development, survey and data analysis, project monitoring, market research or related activity.

Demonstrated knowledge and experience of the handicraft industry, circular and rural economy.

Postgraduate degree in economics, marketing, statistics, data analysis, or related field.

Familiarity with value chain analysis or cluster development desirable.

Strong analytical skills and written and oral communication skills.

Knowledge of English required, French highly desirable
JUNIOR CONSULTANT
Bachelor's degree required, postgraduate preferred in the field of the mission.

Familiarity with surveys and data analysis

Strong analytical skills and written and oral communication skills.
Criteria/Qualification for Evaluation
Firms will be evaluated and ranked by an evaluation committee according to the conditions described in the evaluation criteria below, with a total overall maximum point value of 100. The firms will first be evaluated and scored from a technical standpoint.  Firms that are technically qualified shall then be evaluated in terms of cost reasonableness of their daily rate. The contract shall be issued to the firm with the highest combined technical and cost score.

Level of Effort and Remuneration
The Consultancy will consist of a maximum of 35 working/billing days (1 day = 8 hours) between October 15th, 2021, and December 15th, 2021.
The Firm will be paid the agreed daily fee rate for every day worked, up to but not to exceed 35 days, with reimbursement for related, budgeted expenses (e.g. travel and lodging on field trips outside of Tunis).  The firm will submit a record of LOE monthly for processing and payment.
Location
This work will be primarily remote, due to Covid restrictions, but will require several meetings in Tunis and field trips to +3 governorates to conduct interviews with stakeholders and potential beneficiaries. FHI 360 will require an Expense Authorization form to be submitted and approved prior to travel and will reimburse allowable travel expenses.