Tunisie et
Focus area: Civic Rights in a Digital Age
Scope: Global & Regional
Reports to: Head of Business Development
Level: Senior
Location: Tunisia, Jordan or Lebanon
Hours: 36
JOB CONTEXT

Will you join us on our mission to ensure societies are more open and inclusive so they enable and safeguard meaningful civic participation of underrepresented voices demanding social justice? 
Hivos is an international organization that seeks new solutions to persistent global issues. With smart projects in the right places, we oppose discrimination, inequality, abuse of power and the unsustainable use of our planet's resources. Counterbalance alone, however, is not enough. Our primary focus is achieving structural change. This is why we cooperate with innovative and daring, citizens – young and old – entrepreneurs, civil servants and their organizations. We share a dream with them of inclusive societies, based on sustainable economies. To achieve its mission, Hivos implements programs in three impact areas: Gender Equality, Diversity and Inclusion, Climate Justice and Civic Rights in a Digital Age.  For more information, read Hivos' Strategic Compass 2021-2024 (https://hivos.org/document/strategic-compass-2021-2024/).
We are looking for a Business Development Manager (BDM) with experience in the non-profit sector to design new programs, build coalitions and mobilize resources/funding in the area of Civic Rights in a Digital Age. 
In this impact area Hivos aims to ensure that digital transformations both increase and safeguard the participation of underrepresented voices and stimulate greater accountability of duty bearers to ensure their inclusion. Key to our approach is that rightsholders understand and are able to influence how public and private actors use digital technologies and how this affects their civic rights and access to public resources and services. We encourage and support greater engagement of these groups' governance processes. In particular, we support CSOs to make use of new national and sub-national policy instruments that expand transparency and accountability mechanisms. We believe capitalizing on decentralization processes will increase government openness and responsiveness to citizen's actual needs.
Job Scope:
The Business Development Manager plays a pivotal role in the heart of Hivos' programming and excels in writing winning program/project proposals. He/she/they ensures the sustainability of Hivos' Civic Rights in a Digital Age agenda by securing funding for global and local programs that inspire and have demonstrable impact. The BDM is part of the Business Development Department, works in a global team and reports to the Head of Business Development.  
The BDM creates and maintains intimate and productive relationships with (key) funders, civil society – from a national, regional to a global level – and other stakeholders. He/she /they leads business development processes and builds, strategic partnerships and consortia for program development and implementation. The BDM will be responsible for raising a specific percentage of Hivos annual income as a result of market analysis and donor capture plans. He/she/they analyzes opportunities, ensures proposals fulfil internal and donor requirements, and translates Hivos conceptual thinking into viable, sustainable and financially sound program propositions.  
The BDM works in closely with the Strategy & Impact unit to ensure thematically solid propositions in line with Hivos' strategy. He/she/they liaises with and supports regional hub directors and program managers to develop local, regional and global donor relations, donor intimacy and attractive propositions for funding. With these internal partners, the BDM will scout for – and follow up on – new business development opportunities. Next to that, the BDM supports program managers to develop repeat deals, realize scale and pro-actively involves the senior contract & negotiations officer to ensure deals positively contribute to Hivos' mission & business continuity. 

RESPONSIBILITIES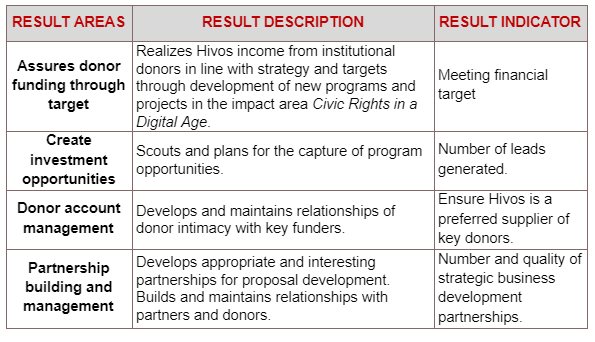 What we offer:
We offer a stimulating work environment in a professional international organization with very dedicated staff.  We offer a national contract based on Hivos local labor conditions, with a remuneration commensurate with the experience and expertise. Contract renewable depending on performance.