Tunisie
CONSULTANT SOLICITATION
Analysis & Mapping of new selected sectors
COLLABORATIVE ACTION FOR THE EXPORT OF HANDICRAFT PRODUCTS
(ACEA) PROJECT
Period of Performance: 

From  June 15th 2021 To October 15th 2021

Expected Level of Effort:

  30 Days

Place of Performance:

Tunis, Tunisia, with field trips to ± 3 governorates.
Program Background
ACEA Tunisia (Action Collaborative pour les Exportations Artisanales, or "Collaborative Action for the Export of Handicraft Products") is a 5-year project funded by the U.S. Department of State and implemented by FHI 360. Its goal is to help artisans, especially those who are socially or geographically marginalized, to commercialize their products, and hence promote greater social and economic equity. Where possible, the project places a special emphasis on assisting artisans to export.
This project is helping to empower artisans and local communities by guiding and advising them using a cluster approach. Members of the Cluster (beneficiaries) meet in workshops and work in groups to learn and share various skills, in conjunction with relevant support entities and technical experts. To date, ACEA has launched cluster development activities in two sectors in Tunisia: essential oils and related natural products (Northwest Tunisia), olive wood kitchenware and tableware (in Sfax and Sidi Bou Zid) and carpets in Dekhilet Toujen Gabes.
The ACEA project will be giving support to two additional handicraft value chains.
ACEA is seeking an individual consultant to assist with the research and mapping of Two additional selected sectors:
Carpets of Belkhir (Gafsa)
Traditional Pottery of Sers (El Kef) and Barrama (Seliana)
Objective of Consultancy
This mapping will be used as a support to identify the relevant actors and stakeholders in the value chains, illustrate the complexities of the value chains, understand the nature of relationships between the different market players, the reasons for constraints that are preventing value chains from achieving the desired outcomes, and to identify the alternative opportunities for income and employment creation. Based on these findings, ACEA project will be formulating appropriate intervention and value chain development strategies.
Detailed Tasks and Deliverables
Under the supervision of the Technical Monitor, Project Director, the Consultant will carry out the following tasks:
Analysis & Mapping of 2 selected clusters: This research will serve as a tool to understand the nature of relationships between market players, reasons for constraints that are preventing value chains from achieving the desired outcomes, identification of opportunities for income and employment creation. This intermediate mapping will serve as a basis to formulate upgrading strategies for the development of the value chains.
The consultant will produce a PowerPoint presentation with mapping of the 2 selected sectors: The mapping will be a sophisticated visual representation of the connections between the actors of the value chains as well as other market players; with emphasis how core transactions in value chains relate to the market players in the immediate and wider business environment.
The mapping needs to:
Illustrate the process by which a product goes through the different stages until it reaches the final customer
Identify the different hierarchal levels in the value chains
Identify and categorize key market players (Excel databases)
Supporting organizations (Government, NGOs, associations, etc.) and the levels of intervention along the value chain
Identify Different market channels through which products and services reach the final customer
Strengths & Weaknesses per Value Chain level
Mapping of the Ecotourism actors and their level of intervention in the value chains
Illustrate value addition factors (price, cost, profits, etc.) by value chain level
DELIVERABLES
The Consultant shall be responsible for preparing and submitting the deliverables to the Technical Monitor according to the following schedule. ACEA will work with the Consultant to finalize format and structure for key deliverables during the consultancy, and the Technical Monitor and other relevant staff will review the consultant's proposed drafts and provide feedback accordingly.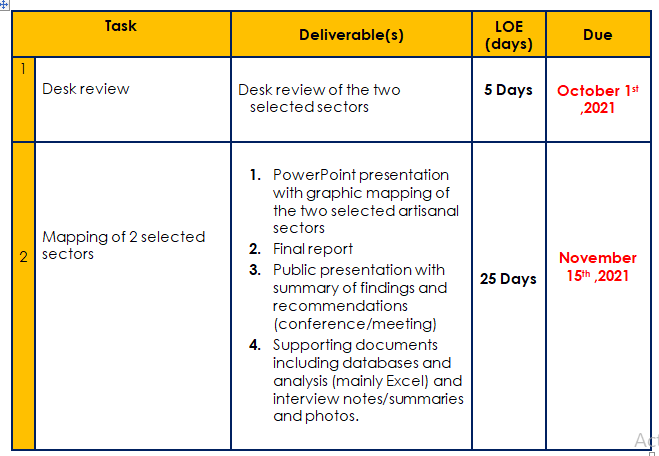 Criteria/Qualification for Evaluation
Consultants will be evaluated and ranked by an evaluation committee according to the conditions described in the evaluation criteria below, with a total overall maximum point value of 100. Consultants will first be evaluated and scored from a technical standpoint. Consultants that are considered to be technically qualified shall then be evaluated in terms of cost reasonableness of their daily rate. The contract shall be issued to the consultant with the highest combined technical and cost score.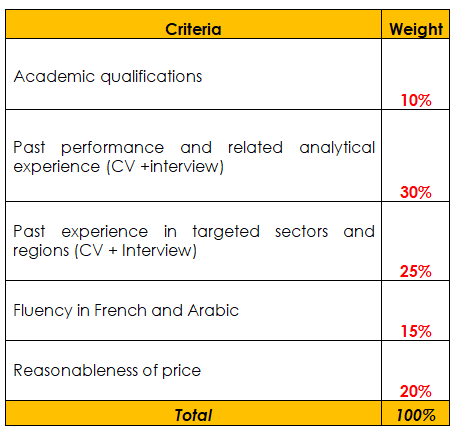 Level of Effort and Remuneration
The Consultancy will consist of a maximum of 30 working/billing days (1 day = 8 hours) between  June 15th 2021 and October 15th  2021. The Consultant will be paid the agreed daily fee rate for every day worked, up to but not to exceed 30 days, with reimbursement for related, budgeted expenses (e.g. travel and lodging on field trips outside of Tunis).  The consultant will submit a record of LOE on a monthly basis for processing and payment.
Location
This work will be primarily remote, due to Covid restrictions, but will require several meetings in Tunis and field trips to ±3 governorates to conduct interviews with stakeholders. FHI 360 will require an Expense Authorization form to be submitted and approved prior to travel and will reimburse allowable travel expenses.