From June 9th to 11th, Carrefour de l'ESS event took place in Tunis, bringing together actors from the Tunisian and Maghreb Social and Solidarity Economy. 
Establishing an Inclusive and Sustainable Environment, Carrefour de l'ESS event was held in the villas of Shanti, Bahja, ALwen, and Jamaity, offering a picturesque setting. The organizers prioritized sustainability, promoting clean and environmentally friendly practices. This inclusive event aimed to create a collective space where local production and consumption, collective management of time and common goods, sustainable transportation, and the empowerment of individuals were emphasized. Furthermore it provided an opportunity for participants to learn from one another, share best practices, and engage in interactive workshops, talks, and activities across various thematic areas.
Carrefour de l'ESS event showcased six distinct thematic domains, each dedicated to illuminating a particular facet of the social and solidarity economy: 
Craftsmanship and design space : 
In this space, visitors were treated to an exhibition showcasing a diverse array of artisanal products. The exhibition aimed to promote an appreciation for traditional and contemporary craftsmanship, highlighting the significance of preserving cultural heritage. Attendees had the opportunity to engage in meaningful exchanges with the artisans themselves, gaining insights into the intricate processes behind their work. Through interactive demonstrations and practical workshops, participants were able to delve deeper into the realms of weaving, pottery, and rattan crafts.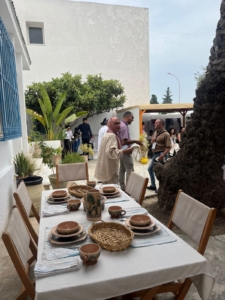 These hands-on activities provided a unique experience, allowing individuals to learn firsthand from skilled artisans and gain a deeper understanding of the craftsmanship involved in these art forms. Overall, this space exalted the significance of safeguarding cultural heritage and advancing the production of locally made merchandise and served as a platform to celebrate the artistry and creativity of local artisans while encouraging the wider community to value and support their work.
Tourism and territory space : 
Within this space, an array of engaging activities took place, showcasing solidarity-based tourism experiences. Visitors had the opportunity to attend presentations that shed light on various initiatives and projects centered around responsible and sustainable tourism. Additionally, there were tasting sessions where participants could sample local culinary delights, immersing themselves in the gastronomic heritage of the region. An exhibition provided a visual display of the diverse aspects of solidarity-based tourism, showcasing its benefits and highlighting successful case studies. To further enrich the experience, a documentary film was screened, offering a thought-provoking narrative that underscored the importance of ethical tourism practices.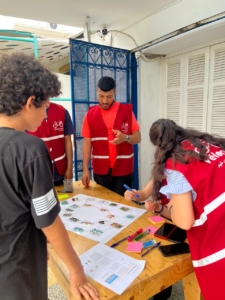 Personal Care and Service Occupations space : 
The space provided an opportunity for attendees to engage in exchanges with interactions with skilled individuals who shared their expertise and experiences in these important vocations. The space also hosted practical workshops that focused on technical skills such as hairstyling, sewing, and modeling. These workshops allowed participants to acquire knowledge and refine their abilities in these specialized areas. Through these activities, the space aimed to not only showcase the significance of Personal Care and Service Occupations but also empower individuals with practical skills that can contribute to their personal and professional growth.
Sustainable Agriculture and Responsible Food Practices space : 
The space offered a marketplace where local farmers and permaculturists showcased their produce and products. The market celebrated the principles of permaculture and sustainable farming, emphasizing the importance of preserving diverse seed varieties. Attendees had the opportunity to explore and purchase items while engaging in informative discussions with the farmers about their cultivation methods. Additionally, there were interactive workshops and activities that aimed to educate and inspire visitors. These included the creation of self-sustaining cultivation boards, gardening workshops, and a session on soil-less cultivation techniques. Furthermore, the space featured a captivating climate mural that served as a visual representation of the impact of climate change on agriculture.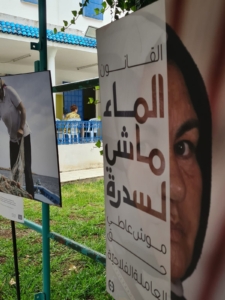 This space fostered a deeper understanding of sustainable farming practices and encouraged individuals to make responsible choices in their food consumption. 
Sustainable Cities space :
This spaces offered a variety of engaging activities and exhibits. One of the highlights was the presence of cyclo-incubators, showcasing innovative initiatives and projects focused on sustainable urban development. Attendees had the opportunity to explore these stands and learn about various solutions aimed at creating greener and more livable cities. The promotion of cycling as a means of sustainable mobility was also a prominent feature in this space. Visitors could discover bicycle-friendly infrastructure, learn about the benefits of cycling, and even try out different bike models. A designated corner provided a platform for exchanging ideas and engaging in debates on urban sustainability, fostering dialogue among participants. Adding to the vibrancy, a captivating sustainable mobility mural drew attention to the importance of environmentally friendly transportation options. Together, these elements created an immersive experience that emphasized the significance of sustainable practices in shaping cities of the future.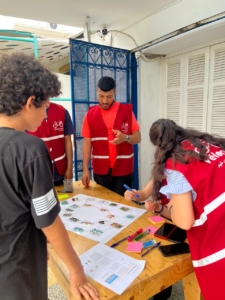 Circular Economy space : 
This space provided an immersive experience centered around sustainability and resource efficiency. An exhibition showcased innovative and inspiring examples of circular economy practices, demonstrating the transformative potential of converting waste into valuable resources. Participants actively engaged in practical upcycling workshops, where they learned hands-on techniques for repurposing textile, plastic, and glass materials. These workshops aimed to empower individuals with the skills and knowledge needed to breathe new life into discarded items, fostering a culture of reuse and reducing the demand for new materials. By encouraging participants to reassess their consumption habits and embrace circular principles, this space fostered a mindset shift towards a more sustainable and waste-conscious society.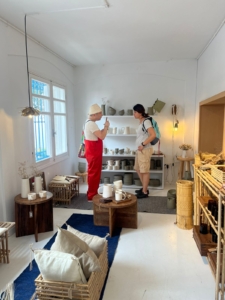 Jamaity's participation : 
As part of the inaugural Carrefour de l'ESS, Jamaity opened its doors on Saturday, June 10th, to warmly welcome the Exchange and Innovation Space. within the space. This space boasted a multitude of engaging elements, including the captivating web platform "Restart Maghreb," which served as an interactive hub for various animations and discussions. Moreover, attendees had access to a collective library and a media center, providing a wealth of resources for exploration and knowledge-sharing.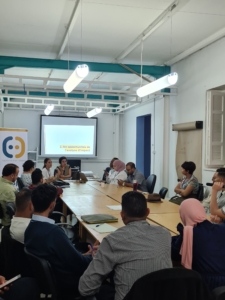 Jamity also hosted a series of enlightening master classes, providing valuable opportunities for knowledge sharing and skill development covering a diverse range of topics :
Masterclass on Impact Planning: Dive into the world of impact planning and learn effective strategies to maximize your social and environmental impact.

 Masterclass on Economic Initiatives and Women's Empowerment: Explore the intersection of economic initiatives and women's empowerment, delving into practical approaches to support women in achieving economic independence and empowerment. 

Masterclass on Traken el Houma: Immerse yourself in the fascinating world of Traken el Houma, a community-based initiative focused on urban development and citizen engagement.
Studio Jamaity : 
Notably, this event served as a occasion for Jamaity to introduce its new initiative, "Studio Jamaity," where numerous interviews and testimonials took place throughout the event, adding depth and insight to the overall experience. Studio Jamaity aims to amplify the voices of various actors within Tunisian civil society, with a particular focus on associations, in order to address important societal issues.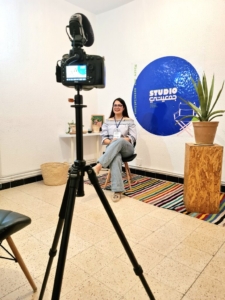 Carrefour de l'ESS event provided a platform for Tunisian and Maghreb actors and actresses in the social and solidarity economy to come together, learn from one another, and promote sustainable practices. By emphasizing collaboration, inclusivity, and the exchange of knowledge, the event aimed to inspire individuals and communities to embrace more socially responsible and environmentally sustainable lifestyles. The thematic spaces allowed participants to explore different aspects of the social and solidarity economy, fostering innovation and promoting the importance of collective action for a better future.
---
Organismes concernés
---
---
---
---
Voila ce que les autres utilisateurs ont pensé de cet article
Vous devez être connecté pour pouvoir évaluer cet article